Nutrunner
Model - WNR-STD, WNR-EC, WNR-EC2
Columbus electric wheel nut runner is primarily intended to be used for loosening and tightening of the wheel nuts on heavy vehicles - trucks, buses, trailers, construction equipment etc. Columbus nutrunners can of course also be used for other tasks where location and space allows.

Columbus nutrunner has been manufactured by Columbusmaskiner AB since 1950 's.

Columbus wheel nutrunners are very comfortable and easy to work with. All controls are easily accessible placed on both shafts of the machine. In comparison to a conventional air impact wrench, Columbus electric wheel nutrunner is very ergonomic, quiet and superior in force. They are able to remove even the tightest nut. They give no vibrations that can damage your hands or other body parts. You automatically get a natural working position when working with a Columbus nutrunner.

Columbus nutrunner has a rotating flywheel, releases its kinetic energy in the form of a blow to the wheel nut. This allows the wrench to work with very great force, compared with conventional air nutrunners. A spring system makes the machine body almost weightless and it requires minimal force when leveling.

The machine socket tube is provided with a one inch square drive for power sockets.

Spare parts, power sockets and adapters are always in stock for fastest delivery.
Columbusmaskiner manufactures three different models of the Columbus electric nutrunner.

Nutrunner - Columbus WNR-STD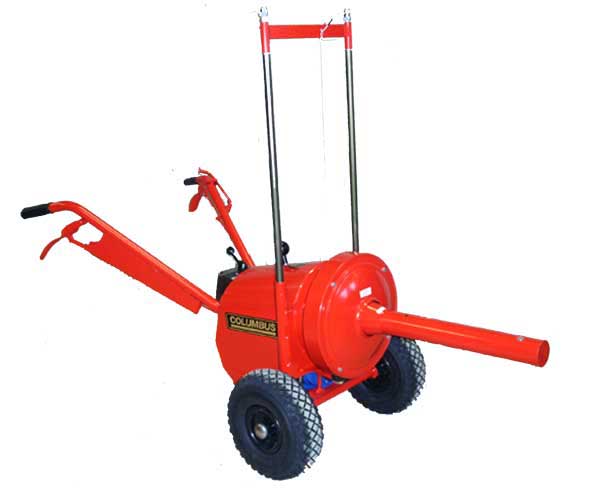 Columbus WNR-STD is the standard model. All functions are transferred here by mechanical means.
The direction of rotation of the flywheel is changed with a combined three position switch. The drive belts are tightened with the right handle so that the flywheel rotates.
The left button (impact button) couples the flywheel to the wrench holder tube. The flywheel's kinetic energy is transmitted to wrench holder tube in the form of an impact.
The working height is adjusted with the left handle.




Columbus nutrunners are of course developed and designed in consultation with professionals within this branch.
Our research shows that those who choose WNR-EC and WNR-EC2 cannot imagine using any other type of nutrunner for this type of job - thanks to the good performance and ergonomics of the above models.

CE declaration
TECHNICAL DATA
| | |
| --- | --- |
| Weight | 60 kg |
| Lenght | 1300 mm |
| Width | 600 mm |
| Height | 1000 mm |
| Motor | 1,5 Hp (1,1 kW), 230/ 400 V, 3-phase, 50/60 Hz, electrical protection class – IP54 |
We reserve the right to make design changes without notice.